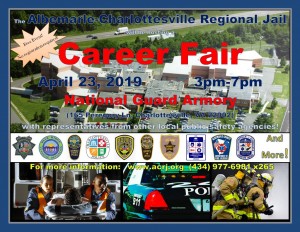 Hosted by the Albemarle-Charlottesville Regional Jail
Location: National Guard Armory
Date: April 23rd, 2019
Time: 3pm – 7pm
Free event
No registration required
Please dress appropriately
Please come prepared to interview as some agencies may interview on the spot
Some agencies may allow you to complete their application on the spot, so please come prepared with copies of personal documents that may be required to be submitted with their application
The agencies listed below will be represented at this career fair, and are recruiting for career positions (including full time, part time, temporary, etc.) and/or volunteer positions. For specific information
regarding an agency's employment/volunteer opportunities, application/hiring process, etc. please contact
that agency.
***This list may not be complete; additional agencies may attend.
Albemarle-Charlottesville Regional Jail
Albemarle County Fire Rescue
Albemarle County Police Department
Albemarle County Sheriff's Office
Blue Ridge Juvenile Detention Center
Charlottesville Police Department
Charlottesville-Albemarle Rescue Squad
Charlottesville-UVA-Albemarle County Emergency Communications Center
Nelson County Sheriff's Office
University of Virginia Police Department